20 Feb 2009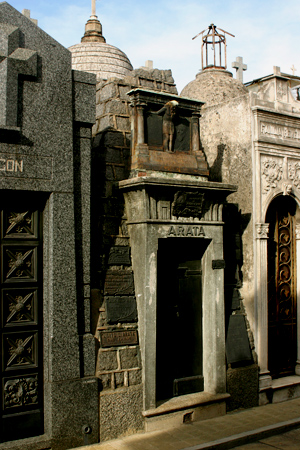 A little bit of Egypt in Argentina, several members of the Arata family are buried here but none as recognized as Pedro Narciso Arata. The unfinished pyramid implies the same symbolism as a truncated column: a life ended with many tasks undone. Freemason fanatics shouldn't get too excited; Arata died the same year that Tutankhamun's tomb was discovered (1922) & Egyptian design had become fashionable.
Born in Buenos Aires in 1849 & related to the wealthy Unzué clan, Arata's early years of school were in Paris. Naturally. He returned to Argentina for high school & university, tutoring many of his classmates in science including future President Roque Sáenz Peña. Arata quickly became part of the scientific elite & enrolled in medical school while teaching at the Faculty of Exact Sciences. Combining his knowledge chemistry & medicine in the improvement of city hygiene, Arata created the Municipal Chemical Office in 1883: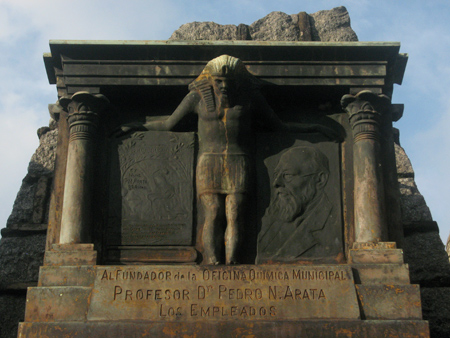 On closer inspection, the left side reveals a faint image of a woman & child doing some sort of chemistry with a snake eager to participate. Crudely etched on the the bottom is a Latin phrase "Alii quidem equos am ant, alii oves, alii feros; mihi vero a puerulo mirandum acquirendi et possidendi libros insedit desiderium." Fourth century Roman emperor Julian placed this quotation over every library he opened & obviously refers to Arata's work to expand the University of Buenos Aires: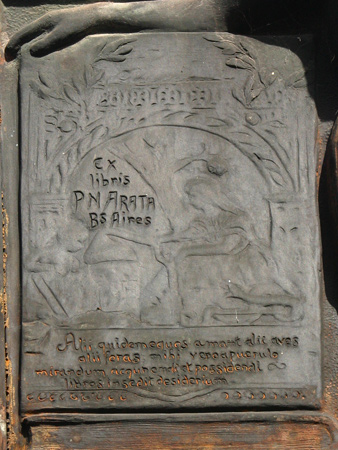 Arata became Dean of the School of Agriculture & Veterinary Sciences (Facultad de Agronomía) in 1904. His massive library of 60,000 books eventually became part of the university's collection & a train station named after him greets students today. The campus occupies a huge section of the city, complete with horses & llamas:
For all his accomplishments, Arata's political beliefs tended toward the conservative as evidenced by a dedicatory plaque from the Liga Patriótica Argentina… maybe there is a bit of Masonic influence in the design after all: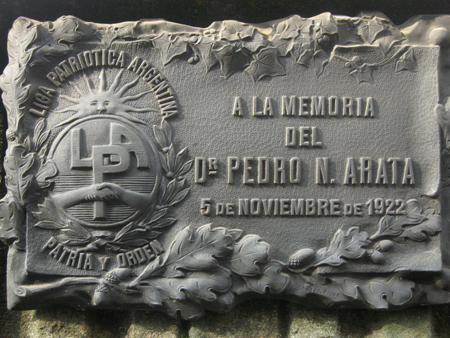 View last photo larger on Flickr.