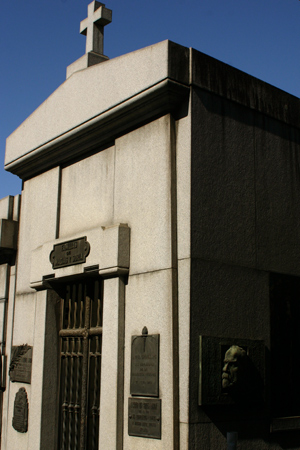 Although we're still investigating why he was originally buried here, this was once the final resting place of Paul Groussac. Born into a modest family in Toulouse in 1848, Groussac denied a spot the French Naval Academy in order to travel the world. But his funds were running out in Bourdeaux, so he took a boat to a faraway destination: Buenos Aires. Arriving in Argentina in 1866 at the age of 18 with no Spanish, Groussac took odd jobs & studied mathematics… but it was his historical essays which got him noticed. Nicolás Avellaneda offered Groussac a professorial position at the Colegio Nacional in Tucumán where he remained for 12 years.
According to biographer Paula Bruno, Groussac returned to France in 1883 hoping to make a name for himself in Parisian literary circles. No one paid much attention so he quickly returned to Argentina to find fame there instead. In 1885, he was appointed Director of the National Library & occupied that post until his death in 1929. Groussac, in the space of 40+ years, converted the National Library into a leading cultural institution & achieved the reknown he longed for.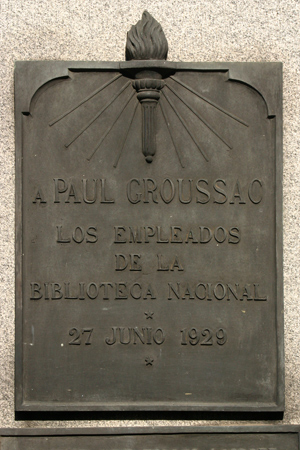 At a time when Argentina wanted to become as European as possible, Groussac's French origins worked to his advantage. Bruno claims that Groussac thought his word on anything cultural was definitive just because he was French. Whether he was that arrogant or not, Groussac established two trade magazines, organized the library's collection, wrote several historical biographies, stimulated cultural activity & strove to add value to intellectual life in Argentina. Jorge Luis Borges even wrote his obituary. One of the plaques displays an accurate relief of Groussac in later life along with names of some of his widely read publications: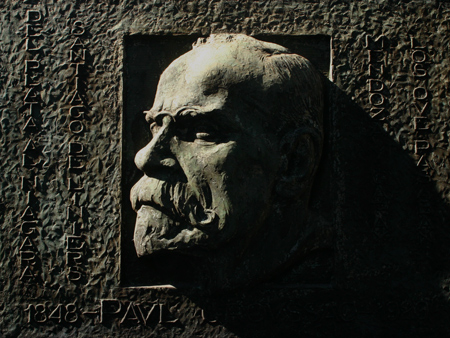 Moved after the completion of his own family vault, Paul Groussac can now be found on a prominent diagonal in Chacarita Cemetery: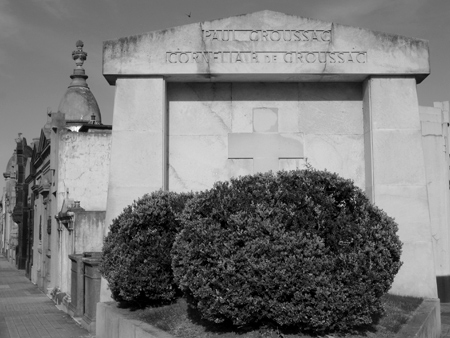 Update (06 Oct 2012): Thanks to a descendant, we have a plausible reason why Groussac was buried in this tomb. One of his daughters, María, married Esteban Macías sometime at the beginning of the 19th century.. They had seven children, one of which was the grandfather of Silvestre Macías… who found this post & left a comment. Thanks very much!