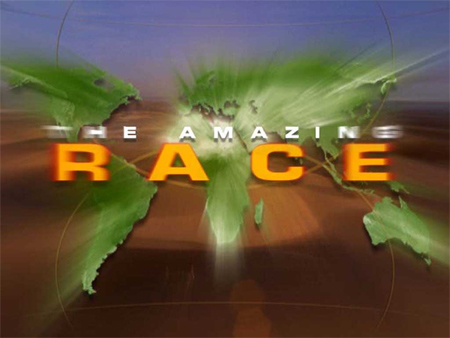 Premiering in 2001, "The Amazing Race" pits 11 teams of two people on an around the world trip to see who can complete challenges & finish the course first for one million dollars. Currently on its 15th season, naturally they've filmed in Buenos Aires a few times. Season 5, Episode 2—airing in 2004—had teams travel by ferry from Uruguay to Buenos Aires & make their way to the tomb of Eva Perón. Of course.
Ignore the severe thunderstorm warning beeps & see the teams make it, sooner or later, to their next clue inside Recoleta Cemetery:
A few comments: Obviously the cemetery was closed during filming as there are no other tourists around. Driving the teams to the tomb in a vehicle normally used to transport caskets is a bit creepy & useless… Recoleta Cemetery is only four blocks big. Asking caretakers where her tomb is located would have been more realistic, & it's only a 2-minute walk or 30-second run from the entrance. Better yet, they could have directed teams to the crypt of Aramburu first, then on to Eva with a history lesson along the way… but maybe that's too much to ask.
Leave a Comment