Raised in Memphis, Tennessee, Robert Wright later moved to Seattle where he almost eliminated a heavy, southern accent. Almost. He's worked as a toxicologist thanks to studying biochem, done time at a shipping company after getting a Master's degree in China Studies, & later ditched everything to move to Spain. It turned out to be one of the best decisions he ever made.
Robert spent the last 16 years putting sushi on the table as a tour guide-guidebook researcher/writer for Rick Steves in Europe while living in Buenos Aires. His own walking tours of BA—including one of Recoleta Cemetery—were a big success, inspiring Robert to self-publish those routes & share an insider's look of his adopted home. His current venture, Endless Mile, offers a guided walk of Recoleta Cemetery in PDF format.
Why blog about a cemetery? This particular one doesn't receive nearly enough press, & the lack of accurate information in English is shocking. Visitors to Buenos Aires usually go inside, stroll around for a few minutes, find their way to Eva Perón's family vault, then wander out. That's not enough.
Even if ostentation is a turn-off, most of the movers & shakers in Argentine history are here along with their fascinating stories. Everyone can find something to identify to. And with a little extra info, it's easy to cover most of Buenos Aires just by walking these passageways. Hopefully, this blog will present a new way to look at Buenos Aires… a way to see the present city via its intriguing, immortalized past.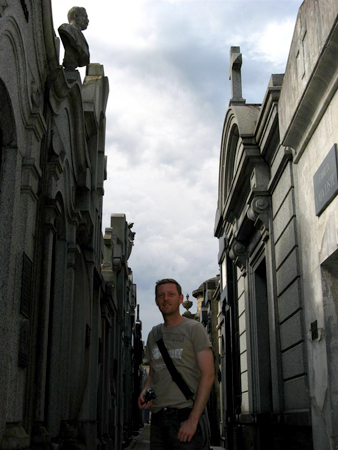 Marcelo Metayer was born in Buenos Aires the year the man reached the Moon. He has lived in many places in Argentina, moving between the mountains in Córdoba and the Atlantic shores. During this time, he studied electronics, photography (thanks to a lovely aunt, who gave him a Kodak Brownie camera as a gift on his eighth birthday), journalism and art history.
Some years ago, Marcelo discovered a passion for writing which led him to win several prizes & explore cultural journalism. He was always fascinated with cemeteries, since he affirms that they are outdoor museums of architecture, sculpture & aesthetic movements. Photos, tales and musings (in Spanish) can be found at http://www.metayer.com.ar.