31 Aug 2015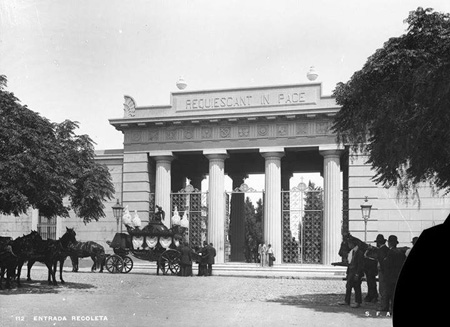 Burial photo with a splendid funeral carriage at the main entrance gate, c. 1890. Courtesy Archivo General de la Nación.
3 responses
Dave Alleno comments:
17 Nov 2015 at 22:19

Looks like the cemetery is going to start charging tourists a 100 peso entry fee soon!

http://www.lanacion.com.ar/1844697-el-cementerio-de-la-recoleta-cobrara-la-entrada-a-los-turistas-extranjeros

Robert comments:
17 Nov 2015 at 22:33

It appears that way unfortunately… I've been watching this for a few months & will post about it soon!

Dave Alleno comments:
21 Nov 2015 at 20:23

Thanks Robert. Looking forward to the post, and finding out more about what's going on with this charge!