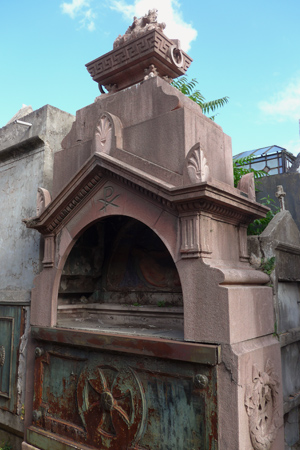 So far, we've found no online source with information about the Arbigorria family. And while they've obviously stopped paying maintenance fees, the vault is too unique not to mention here.
This pink-hued masterpiece off the tourist circuit offers one clue: a rare plaque by its architect, Carlos H. Besana. With a studio on Calle Tucumán just off Avenida Callao, Besana inherited a successful construction & architecture firm from his father, Pablo Besana. Pablo began his career in Milan & his native Lake Como, arriving in Buenos Aires in 1878. He collaborated with other major architects in the construction of some of the capital's iconic buildings such as the first Facultad de Medicina on Avenida Córdoba & the national Congress. Around 1916, the firm acquired the name Besana & son.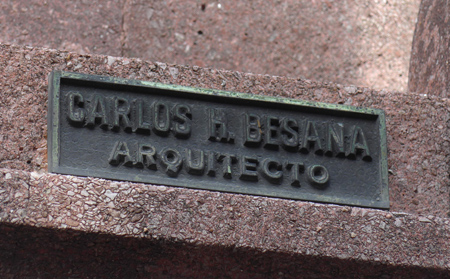 Another splash of color decorates a recess in the vault… a painted Pietà image. Such colorful images are rare in Recoleta Cemetery, often only found in stained glass panels: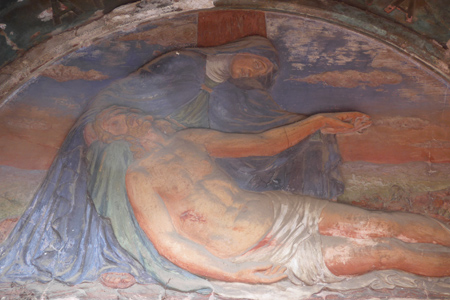 Latin script at the base of the Pietà is credited to St. Francis de Sales, a bishop from Savoy. Per crucem et derelictionem tuam, libera nos, Jesus translates to "By your cross & passion, deliver us, Jesus" & is often used in prayers: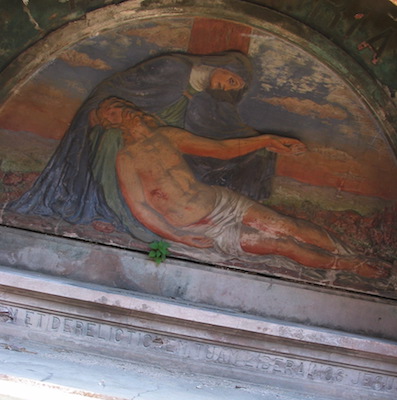 If anyone has any biographical information on the Arbigorria family, let us know & we will include it here. In the meantime, seek out this bit of color inside the cemetery!
2 Comments