04 Jul 2008
On a winter morning in 1881, Felisa Dorrego de Miró received an unexpected letter at the family mansion in Buenos Aires. Full of eloquent prose & apologies, Felisa read that the cadaver of her recently deceased mother had been stolen from Recoleta Cemetery & a ransom of 2 million pesos was demanded in 24 hours for its return. Shocked & in spite of threats not to involve the police, Felisa reported the theft.
A big, bulky coffin would have been impossible to sneak out without someone noticing, so police deduced the casket must have been hidden somewhere inside the cemetery. Sure enough, a nearby tomb with a broken chain had the coffin of Felisa's mom stuffed inside. With part of the mystery solved, the police captured the entire gang by paying the ransom & following the trail. The culprits were bored upper-class "gentlemen" looking for a bit of adventure.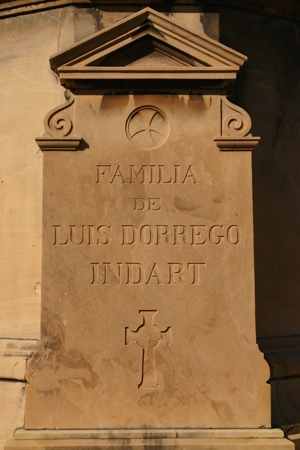 Unfortunately no punishment existed on the books for the crime committed. Each member recevied two years in prison for related violations of the law, & in response a new law was added. Article 171 of the Argentine Penal Code still states that a sentence of 2 to 6 years will be given to anyone who steals a cadaver & demands a ransom for its return. Seriously.
Another interesting thing about this tomb is the sculpture. Copied from Père Lachaise Cemetery in Paris, the statue depicts the only demon in Recoleta Cemetery. A rather smug angel carries a soul to heaven while stomping on a devil with bat wings, a curly, gruesome tail & a pitchfork. No doubt who won this contest: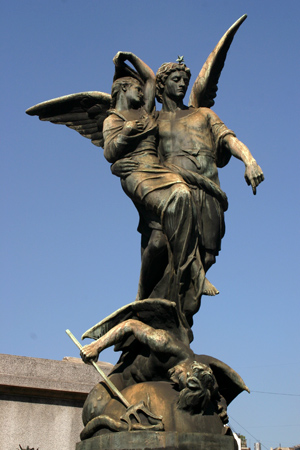 Vean la última foto más grande en Flickr.